Do you know someone who should be acknolwedged for their excellence? If so, please e-mail us at info@lgbtphysicists.org.
2017 Acknowledgement of Excellence Award
Chanda Prescod-Weinstein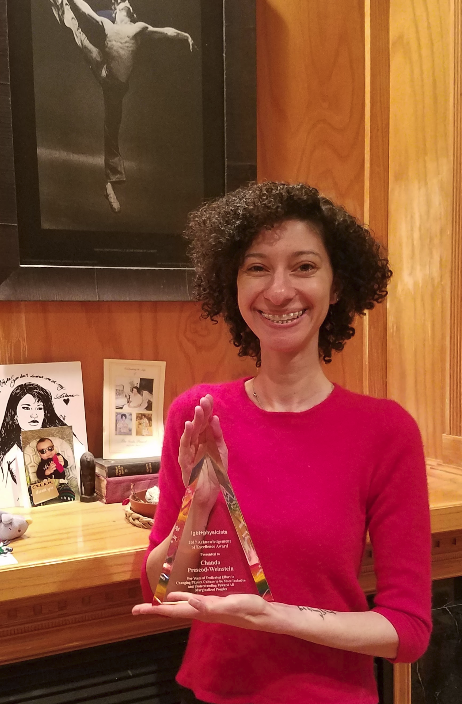 You can't spend any amount of time doing Diversity work in Physics without hearing the name of Dr. Chanda Prescod-Weinstein.
Along with a distinguished career as a Theoretical Cosmologist with degrees from Harvard, UC Santa Cruz, and the University of Waterloo, and positions held at the Perimeter Institute, NASA, MIT, and currently the University of Washington, Dr. Prescod-Weinstein has taken every step of their career with the mindset that the fields of physics, astronomy, and cosmology must be open, accessible, and ethical to people coming from many backgrounds and identities.
Dr. Prescod-Weinstein's work includes fighting for the rights of native Hawaiians to their lands in opposition to the Thirty Meter Telescope; educating and holding accountable many physicists on issues of race, including multiple of us within lgbt+physicists; Co-Chairing the Annual Meeting of the National Society of Black Physicists and the National Society of Hispanic Physicists, and is a founding member of the AAS's Committee on Sexual Orientation and Gender Minorities in Astronomy.
Her writings on science and the scientific culture always shine light through an intersectional lens that highlights how issues around race, sexuality, gender, gender identity, class, disability, and others are issues that have an important impact on the profession and professional lives of physicists, and they have spread that message of inclusiveness from her blog at Medium, including the Decolonizing Science Reading List, to the pages of Bitch Magazine, Black Perspectives, the Black Youth Project, and the introduction to Hidden Human Computers: The Black Women of NASA. Dr. Prescod-Weinstein has also directly included their voice on inclusivity in science to PhDivas and MSNBC.
For Years of Dedicated Effort in Changing Physics Culture to be More Inclusive and Understanding Toward All Marginalized Peoples, Dr. Chanda Prescod-Weinstein is presented with the 2017 lgbt+physicists Acknowledgement of Excellence Award.
2016 Acknowledgement of Excellence Awards
Arlene Knowles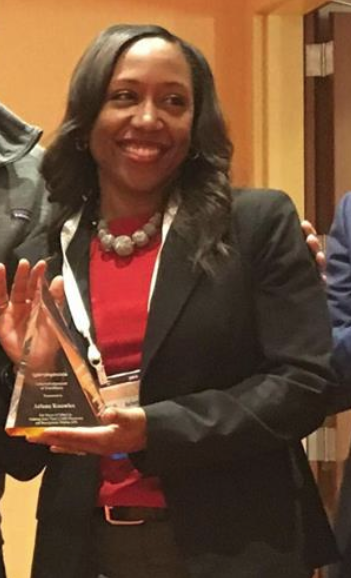 The first APS meeting where a graduate student asked for LGBT resources was met with silence after asking about resources for LGBT physicists. It was Arlene who allowed us to break that silence. She's been an incredible ally, advocate, and friend since the very beginning. Without her help, lgbt+physicists never would have had the space to meet, to organize, and to do the work we've been able to. We are beyond grateful that she has been behind the effort to bring awareness of the issues that LGBT physicists face for over six years. For Years of Effort in Making Sure That LGBT Physicists are Recognized Within APS, Arlene Knowles was presented the 2016 lgbt+physicists Acknowledgement of Excellence Award.
Monica Plisch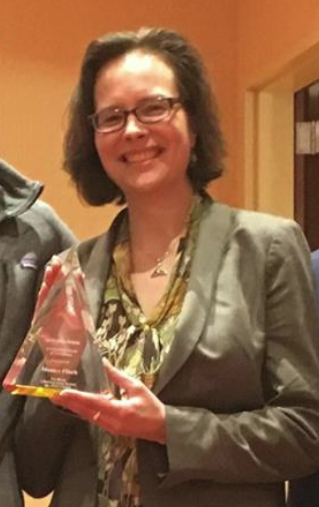 Also after that first APS meeting, lgbt+physicists was given contact information for Monica Plisch. We first reached out to her in 2009, and she was helping us tremendously behind the scenes, and was the voice that encouraged our founder to join the Forum of Graduate Student Affairs, where we took the first data ever on LGBT physicists. A constant supporter of lgbt+physicists, we were beyond ecstatic when she finally felt comfortable enough to join the OutList as an LGBT physicist. After that point, Monica took a driving role within APS to make sure that LGBT issues were visible and addressed. She was a big part of forming the APS C-LGBT, first reaching out to Kate Kirby about LGBT issues seven years ago, and within the last few years has driven the effort that made the C-LGBT and the LGBT Climate in Physics Report possible. This work, and the collaboration between lgbt+physicists and the APS, would not have been possible without her. For Being a Driving Force Behind the APS C-LGBT, Monica Plisch was presented the 2016 lgbt+physicists Acknowledgement of Excellence Award.
Michael Falk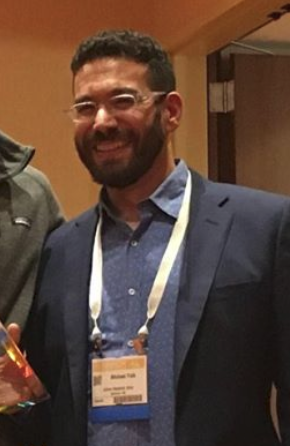 Michael Falk joined the lgbt+physicists organizers in 2011, shortly after the first ever gathering of LGBT physicists at the APS March Meeting. He was a major contributor to the organization's first big effort: the 2012 March Meeting Session on Sexual and Gender Diversity Issues in Physics, bringing to light the issues that many of us face to the general physics community for the first time. He continued this most recently in his appointment of Chair of the C-LGBT. Michael has spent the last year and a half networking, putting together documentation, and keeping the rest of us on track for getting the LGBT Climate in Physics Report out and available. Without the effort and countless hours that he's put in to this Committee, we would not have the results available. For Making Physics More Inclusive Through Outstanding Work as Chair of C-LGBT, Michael Falk was presented the 2016 lgbt+physicists Acknowledgement of Excellence Award.